DRNK COFFEE FRANCHISE
OUR STORY
15 years ago, Thomas Nariman, founder of DRNK coffee + tea, first entered the franchise world. Since then he's operated 7 different food and beverage concepts from Johnny Rockets to Pinkberry. After opening 40 locations and learning the good, the bad, and the ugly in franchising he decided to launch his very own concept! In 2013, DRNK coffee + tea was born with the goal to disrupt the coffee franchise model.
With the rise of third wave/boutique type coffee shops serving ultra-expensive coffee, Thomas saw the opportunity to deliver that same great quality but for an increasingly mobile consumer, maintaining a traditional coffee shop setting. DRNK coffee + tea has a vibrant swagger and sophisticated appeal offering a diverse selection of hot and cold organic coffees and teas; In addition to world class, handcrafted organic espresso beverages along with freshly made breakfast items, paninis, wraps, and salads.
Our formula for success is simple: serve high quality products, provide relentless customer service, create a comfortable and inviting environment for our guests. We believe in challenging normalcy in everything we do. We certainly do thank mediocrity for the offer, but DRNK doesn't fit into that saturated market. That's the attitude and mindset we possess and we work in concert with our franchise partners to deliver that guest promise.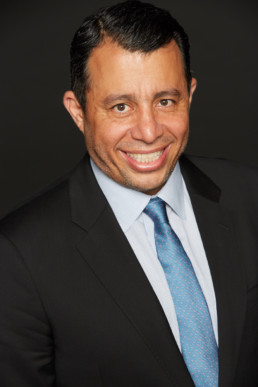 Thomas Nariman
Founder & CEO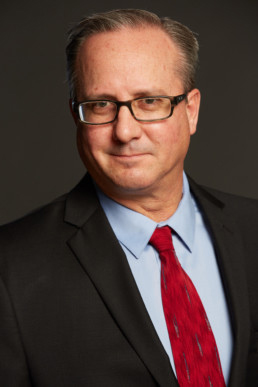 Boris Horvat
VP of Operations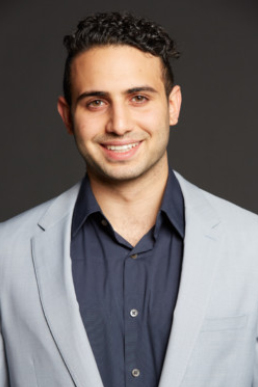 Amir Atigehchi
VP of Strategic Growth
SUPPORT
SUPPORT – OPERATIONS
Our operations team is built to be hands on with franchisees! We spend two weeks training franchisees in Hollywood, CA and spend at least one week training staff at the franchisee's location. Our in-depth program helps franchisees understand day-to-day operations including customer service, overseeing cost of goods, labor, hiring  and maintaining equipment.
When it comes to operations, we're very serious about supporting our franchisees. We want to ensure a comfortable store environment for both our partners and their customers. Our training team will be available for ongoing support and new product introductions. Quarterly franchise meetings allow franchisees to get updated on new products, training and new programs.
Our mission is to ensure franchisees can operate their stores to a high standard, preparing drinks and food that will reflect an exceptional customer experience.
SUPPORT – MARKETING
DRNK coffee + tea's marketing is designed to be hyper-focused on the local trade area. Our marketing team works hand-in-hand with franchisees in developing Grand Opening campaigns, so that the neighborhood immediately feels the presence of newest coffee shop in town!
To drive traffic to the stores we direct our efforts in guiding you to implement a variety of marketing tactics and the development of a Local Store Marketing plan which includes proven tactics such as on-site sampling, direct mail campaigns, bounce back coupons, loyalty programs and more. However, we're different than most QSR franchise organizations. We're investing major efforts into modern marketing tactics such as geo-focused content marketing in the form of blogging and of course taking advantage of the wide but targeted reach social media has on all platforms. Bottom line, a well-executed marketing plan added to our on-going LTO and product offerings and continued support equals a successful DRNK coffee + tea.
WHY DRNK?
To say the future is bright would be an understatement. DRNK coffee + tea is a growing franchise built for long-term growth. We invest great efforts into research and development, making sure we're way ahead of the curve. Our goal is to constantly re-invent ourselves as leaders in the specialty coffee space. We're consistently in the lab testing new products forecasting the next big hit! This culture carries to our marketing strategies and operations support. The latest technologies are always tested at a corporate level, ensuring added value to be implemented across the system.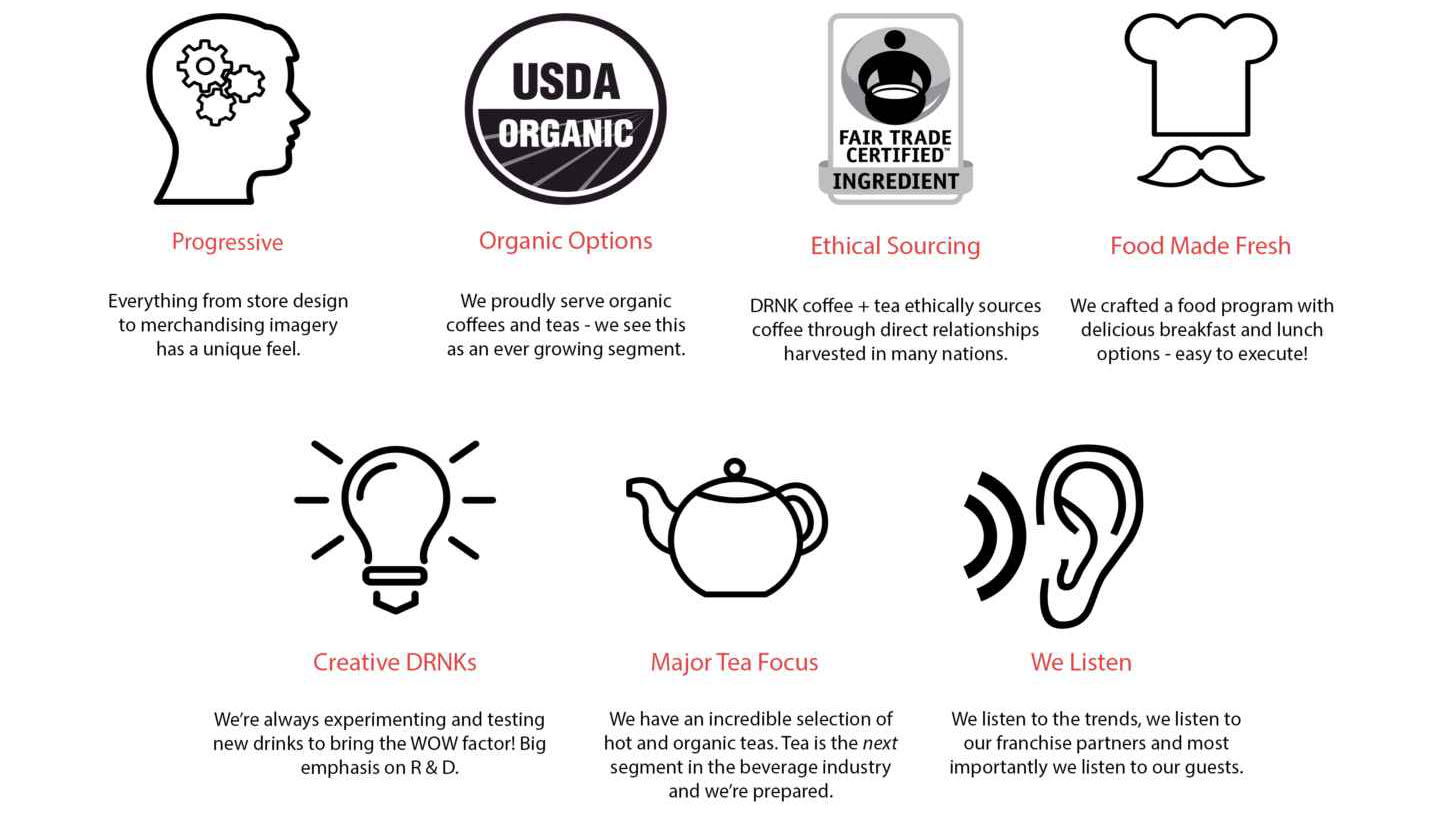 COSTS
TYPE OF EXPENDITURE
LOW
HIGH
Initial franchise fee
$40,000
$40,000
Architect, engineer and
other design professionals
$4,000
$9,000
Expenses while training
$300
$7,000
Acquisition of real estate/
deposits and initial rent
$4,000
$20,000
Construction
$83,000
$218,500
Furnishings
$3,500
$18,000
Equipment
$67,000
$118,600
Inventory
$7,000
$10,000
Utility deposits and fees
$1,000
$2,400
Business license
$300
$600
Insurance
$2,000
$3,000
Grand Opening
$1,000
$3,000
Uniforms
$200
$1,000
Office expenses
$200
$600
Point of sale system
$11,000
$12,000
Telephone
$150
$300
Signange
$7,500
$8,500
Legal and accounting
$1,000
$3,000
Additional Funds – 3 months
$20,000
$40,000
TOTAL
$253,150
$515,500
Partners who have passion for business and believe in our concept.
Experience as a multi-unit food or retail operator with successful development experience.
Sufficient capitalization: Minimum net worth of $500K, with liquid assets of at least $150K.
A strong commitment to community and a desire to be really great at this!
Strong, experienced leadership skills.
Demonstrate exceptional managerial skills and business acumen.
BENEFITS
The average consumer is becoming more educated in varieties and qualities of specialty coffees around the world. In 2013, DRNK coffee + tea saw this as an opportunity to serve people who expect higher quality yet expect the traditional speed of service their life demands. Becoming a DRNK coffee + tea franchisee has many benefits that a partner can capitalize on.
Built-in Operational System:
All the tools are in place for you to operate your business effectively.
R & D
We're intune with the coffee industry, constantly identifying the newest and hottest trends.
Strong Buying Power
We are constantly overseeing prices and negotiating all items to put franchisees in the best position for success.
On-going Support
From the day you start your business to everyday thereafter we are always providing you support from operations, training and marketing.
Proven Model
DRNK coffee + tea's current operating locations demonstrate that model works! Our franchise partners continue to enjoy incredible success from a brand perfectly targeted towards the more sophisticated coffee consumer while offering the ideal franchise operating model!
OUR STEPS TO SUCCESS
Apply &
Qualify
FDD
Discovery Day
in LA
Sign Franchise
Agreement
On-Boarding
Selection of
Location
Training
Grand
Opening
Continued
Support
Apply & Qualify
Once submitted, we will contact you to discuss the next steps and answer additional questions that you may have.
FDD
When a mutual decision is made to move forward, we will send you our Franchise Disclosure Document (FDD) for your review. The FDD includes history of the company, financial information, costs and the franchise agreement.
Discovery Day in LA
Discovery in Los Angeles will give us the opportunity to shake hands and introduce you to the Franchise Support Team.We'll also tour our current operating locations.
Sign Franchise Agreement
The signing of a Franchise Agreement with DRNK coffee + tea will begin our business relationship. This immediately opens the door to all of our comprehensive franchise support systems.
On-Boarding
On-Boarding consists of several different educational sessions being instructed by our staff over the course of several weeks. Now is the time to teach you everything you need to know. Let's get going!
Selection of Location
ODRNK coffee + tea firmly believes in mastering site selection. We will assist you (with your real estate broker) with site selection and lease negotiation on a site that fits our parameters. This process will immediately begin upon signing the franchise agreement.
Training
DRNK coffee + tea provides a multi-week comprehensive education program including in-store, classrom and on-site training. We never lose focus on the importance of properly trained franchise partners and their team members.
Grand Opening
Our marketing department will provide input and guidance through the planning of your "ribbon cutting" event. Grand opening specific marketing materials and public relations ideas have been created to ensure success of your initial launch.
Continued Support
The Franchise Support Team is committed to your success and will continue to provide world-class operations and marketing support. Let the fun begin.
DISCLAIMER
THIS WEB SITE AND THE FRANCHISE SALES INFORMATION ON THIS SITE DO NOT CONSTITUTE AN OFFER TO SELL A FRANCHISE OR LICENSE. THE OFFER OF A FRANCHISE CAN ONLY BE MADE THROUGH THE DELIVERY OF A FRANCHISE DISCLOSURE DOCUMENT. CERTAIN STATES REQUIRE THAT WE REGISTER THE FRANCHISE DISCLOSURE DOCUMENT IN THOSE STATES. THE COMMUNICATIONS ON THIS WEB SITE ARE NOT DIRECTED BY US TO THE RESIDENTS OF ANY OF THOSE STATES. MOREOVER, WE WILL NOT OFFER OR SELL FRANCHISES IN THOSE STATES UNTIL WE HAVE REGISTERED THE FRANCHISE (OR OBTAINED AN APPLICABLE EXEMPTION FROM REGISTRATION) AND DELIVERED THE FRANCHISE DISCLOSURE DOCUMENT TO THE PROSPECTIVE FRANCHISEE IN COMPLIANCE WITH APPLICABLE LAW.
Currently, the following states regulate the offer and sale of franchises: California, Hawaii, Illinois, Indiana, Maryland, Michigan, Minnesota, New York, North Dakota, Oregon, Rhode Island, South Dakota, Virginia, Washington, and Wisconsin. If you are a resident of one of these states or countries, we will not offer you a franchise unless and until we have complied with applicable pre-sale registration and disclosure requirements in your jurisdiction.