HERE AT DRNK,
WE'RE COMMITTED TO FOUR CORE VALUES:
QUALITY
We source the highest quality beans from all around the world. Our roast masters use the latest techniques to roast to perfection! DRNK firmly believes in only brewing the freshest coffee.
FOSTERING
RELATIONSHIPS
We take our relationships with guests, employees, franchisees, and farmers to the heart. Building these relationships is the lifeline of our business!
ORGANIC +
FAIR TRADE CERTIFIED
Of our various single origins and blended coffees, we also offer organic options! Additionally, we carry fair trade certified coffee and teas. Every espresso shot we pull is not only super smooth but also organic.
OPEN-EAR POLICY
Listening to all the major influences has been key for us. We listen to trends, we listen to coffee farmers, and we listen to our guests. By collaborating and assessing different perspectives we get the best results!
SO, WHAT TRULY MAKES US DIFFERENT?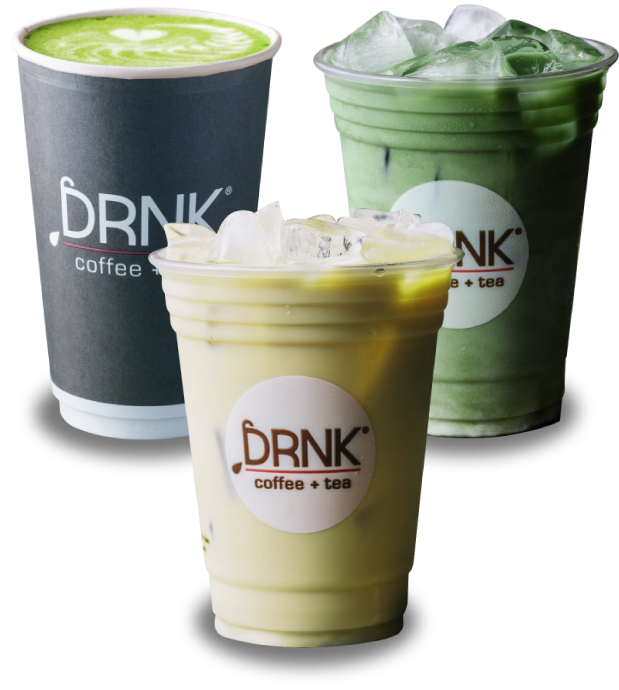 FOOD MADE DAILY
DRNK's food program follows the same principles as our coffee, always fresh. We have crafted delicious breakfast and lunch items that are made in-house! At DRNK coffee + tea, you won't need to settle for a frozen sandwich that needs to be microwaved.
RESEARCH + DEVELOPMENT
We invest a great amount of resources in perpetual R&D. Constant innovation and recipe testing is our major differentiator. DRNK believes that satisfaction leads to stagnation. When you get too comfortable, you're already behind.
NEVER SETTLING
In order to avoid status quo, creative thinking and designing a unique environment are essential.The modern yet cozy layout of each store from every single handpicked song is methodically considered. Rethink your DRNK!